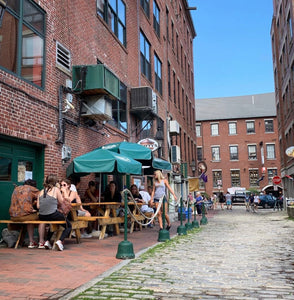 Get Gritty in Maine!
When Gritty's Portland Brew Pub opened in 1988, it became Maine's first brew pub since prohibition and a leader in the state's craft brew revolution. Since then, locals of every stripe and visitors from around the world have been enjoying fine, small-batch ales brewed on-premise, great pub fare and an old world pub atmosphere.
Right next door to our Portland and Freeport brew pubs you'll find a Gritty's Brewtique, the only brick & mortar places in Maine to find all the best in Grittywear, Gritygear and fresh ales to go. Every Brewtique carries a great selection of t-shirts, outerwear, hats, glasses, logo merchandise, and of course, our handcrafted ales. The Brewtique is the perfect place to shop for the beer lover in your family, and that includes you! Stop in on your next visit.
Gritty McDuff's Portland Brewtique
Hours: Thursdays through Sundays 11 am -5 pm.
If the Brewtique is closed, ask the Pub manager to open it for you!
396 Fore Street
Portland, Maine 04101
phone: 207-772-2739
fax: 207-772-6204
grittys@grittys.com
Gritty McDuff's Freeport Brewtique
Hours: Noon - 8 pm Daily
187 Lower Main Street
Freeport, Maine 04032
phone: 207-865-4321
fax: 207-865-2109
grittys@grittys.com